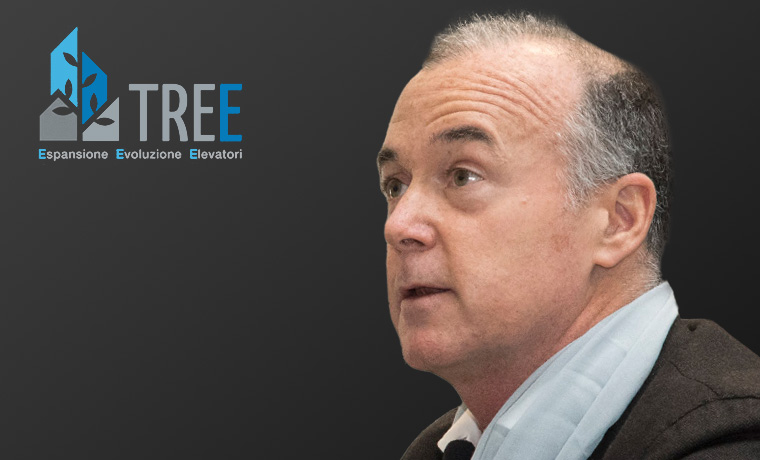 Patrick Cox is the General Manager for TRE-E scrl, a consortium of elevator and escalator industry service providers operating across Italy.
In this interview, he discusses the competitive landscape in Italy's elevators sector and the value of standardization. He also explains how IoT capabilities enable business transformation and provide sources of innovation and competitive advantage to small and medium-sized service providers.
Q: Would you begin by introducing yourself and your role with TRE-E?
PC: I am an entrepreneur with a solid management experience in leading business transformations that generate long-term customer value. Together with the TRE-E Consortium leadership team, we help our local businesses focus on their priorities.
We recognize the value of the family-run business that has delivered quality service to its customers for 2-3 generations and support their growth by developing standards that allow for the 'personal touch' that has been the hallmark of their success. Our 'Glocal' approach allows us to leverage on the advantages of central leadership to deliver better customer value locally. 
Q: What is the history of TRE-E and its current business model?
PC: Our aim is help businesses that are local to operate as if they had national scale. Through our consortium model we streamline back-end activities related to automation, standards, tools, and knowledge. As a result, we provide the kind of support that will drive business change.
To achieve these goals, TRE-E developed an organization that has clear objectives. At the helm, TRE-E has the task to identify the strategy and the overall course required to enable the local businesses to maintain and strengthen their local leadership positions. Three of the many activities that are coordinated by the TRE-E leadership team are firstly the active participation in the development of national and international standards. Secondly, we develop internal quality standards that underly the TRE-E brand "Impianto Sicuro" and thirdly we conduct internal benchmarking that we then promote through working groups at all levels of the organization.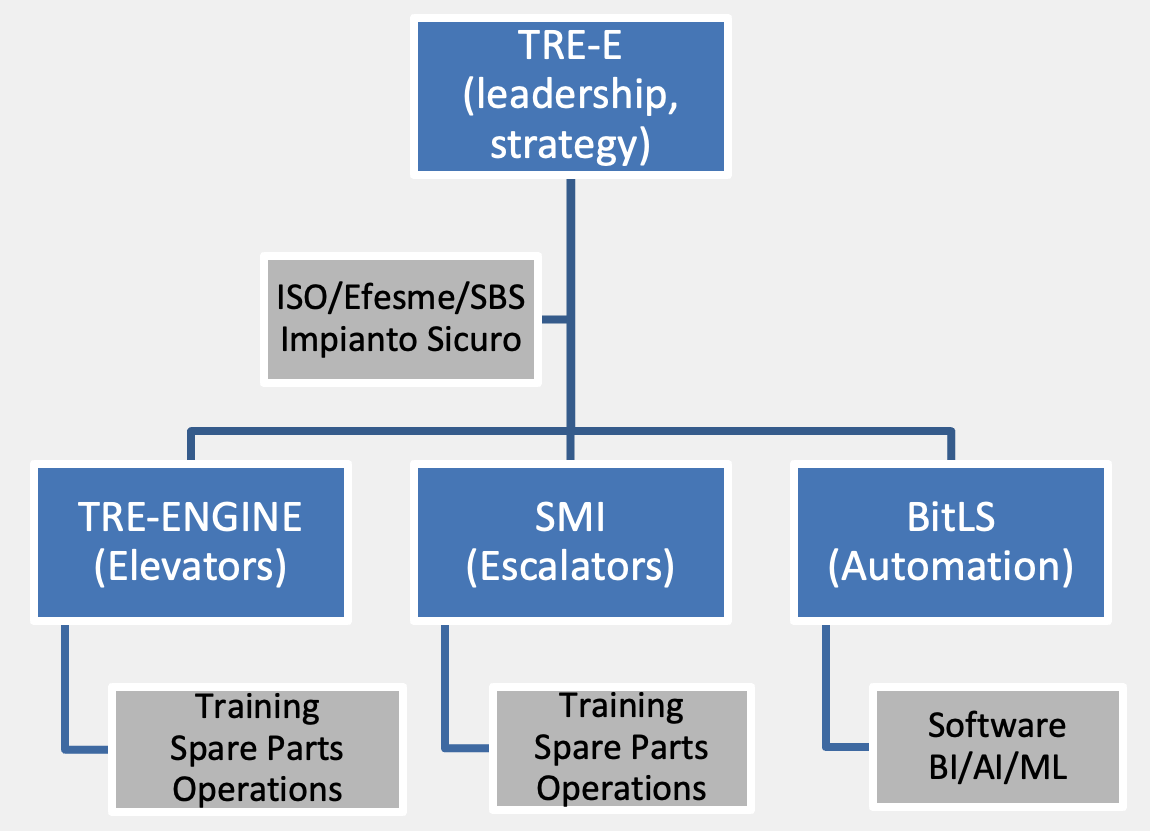 Our TRE-Engine and SMI units are equipment-specific and play similar roles. Key elements of their success are technical training, spare parts, and operations.  TRE-E developed a state-of-the-art multi-brand elevator and escalator training facility that allows its technicians to integrate the in-classroom training with hands-on experience.  Participation is evaluated and feedback is then returned to the employee and the employer to update individual training programs. Internal standards of Impianto Sicuro require a minimum number of days of training annually. More recently, we have added some remote learning experiences to allow for a more flexible approach and meet continuous learning needs in a tight labour market.
The availability of original and compatible spare parts is essential for a quick response to customers. This is managed through a mapping of our 40,000 unit installed base and the tracking of maintenance history.
Overall, we support our local businesses with on-demand assistance in operations that may be required. This is handled remotely and onsite by our team of subject matter experts and by providing access to a digital library of manuals and 'Smart-tips'. Currently, we are introducing augmented reality (AR) enabled glasses that will enhance the quality of remote maintenance assistance and provide technicians with additional self-help support.
Of course, improved customer service and increased employee productivity rely on our ability to streamline and standardize internal processes. This is managed within BitLS through the development of bespoke software that allows the organization to share the customer information in real time and provide the necessary reporting and statistics to track performance. The resulting suite of solutions is compliant with regulations and compatible with the integration of third-party solutions. Requirements for the "Impianto Sicuro" brand promote the use of process automation tools to achieve high standards of customer service. More recently, we have begun experimenting with AI to help us develop new approaches to elevator maintenance.
Q: How does TRE-E fit in Italy's elevator market?
PC: There are about 1 million elevators in Italy of which 80% are pre-1999. In European terms, ours is a large market because there is a regulatory requirement to install elevators in buildings that are higher than four storeys. There is also a requirement for periodic checks to certify these elevators. As in other regions, four Global vendors are significant in the market – Kone, Thyssen, OTIS and Schindler - but Italy also has an important tradition of local vendors in the market.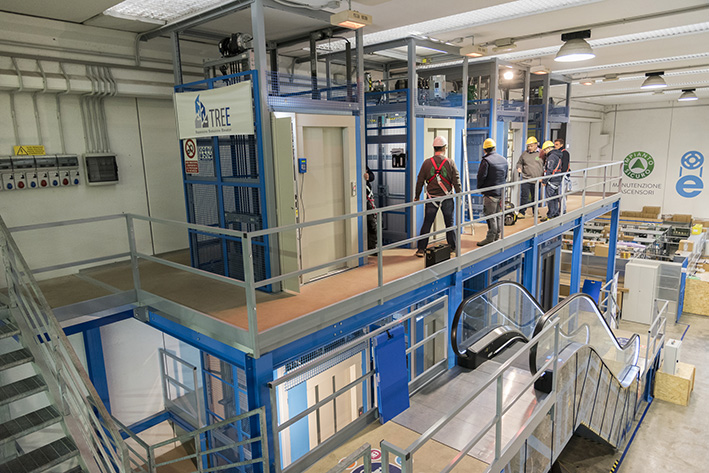 Ten years ago, several lift sector entrepreneurs launched TRE-E to help small and medium sized providers to become more competitive. Our members serve about 40,000 elevators. What makes us special is that our members have the know-how to service equipment from different vendors. We also support equipment that might be decades old and modified from their initial configuration. You can imagine the appeal of cannibalizing and reusing spare parts. It requires a special type of expertise to service across supplier types.
We are uniquely positioned to provide the necessary support to allow the continued competitiveness among SMEs in Italy. We are actively working with the market-at-large to play an important role in shaping the sustainability of the SMEs for years to come.
Q: What are the challenges and opportunities that TRE-E helps SMEs to address?
PC: Many new buildings default to their elevator vendor's service contract for a few years. After that, building owners look for other service providers. Decisions are often made on price. We want customers to see what we can do with lift maintenance services so that they hire a service provider based on the service proposition. The idea is to get away from a black-box approach to maintenance and deliver a better customer experience.
There are a few ways we can improve the experience. Firstly, our members are skilled and knowledgeable with a wide range of maintenance situations and lift types. We build on this experience to benchmark performance and to identify best practices. We can do this economically because we are spreading the effort across twenty-two member companies in our group. That would be difficult for a single service provider to do on its own. The second thing we can do is to use sensor data to improve maintenance procedures. That is why we have been investing in the IoT.
Q: How is TRE-E planning to use IoT technologies?
PC: Our view of the future is one that involves connectivity and data. We have been collecting elevator data for over ten years. Of course, the scope of what we collect continues to expand as vendors add more sensing capabilities to their equipment. Now, we are looking at the intersection of lift performance data with maintenance interventions. That will give us greater insight into what does and does not work.
We also want to reorganize maintenance procedures that have not changed in forty years. We can do that with technology and data analysis. As an example, we have an initiative with the University of Florence on the application of AI to our elevator data. Through such techniques, we can develop a storyline for events and incidents, actions taken by technicians and what happened subsequently. Our first set of analysis found some recurring patterns with insights into key event types and consequences. That gives us a foundation to develop new maintenance approaches.
There is one other reason to invest in IoT technologies. In a tight labour market where we are also seeing experienced technicians retiring, it is difficult to find qualified technicians. We need to evolve from a people-based to a technology-based industry.
Q: How do oneM2M standards help with these goals?
PC: You can view the use of common operating procedures and training materials across our member organizations as a form of standardization. We need the same thing when it comes to the use of technology.
oneM2M standards are interesting because they are not proprietary. They also help to support a shared environment, one that becomes more valuable with rising numbers of people and organizations. This will change the paradigm for businesses in the TRE-E group and we believe that it will also change the sector as a whole. Our way of analysing and using data across equipment types gives us an edge in adapting maintenance procedures and delivering a better experience to our customers. Training is a strong point. It helps to develop a better qualified workforce and gives our members a competitive advantage compared to the large vendor propositions. When users are reviewing their service contracts, they look at our members more seriously. After all, our plans will take 19th century business practices into the 21st century.
Q: Do you have any advice for the lifts sector or SMEs in other industries
PC: While it is generally understood that IoT will also impact traditional businesses, I am convinced that business success will be a result of the convergence of human relationships with technology. This is a great opportunity for SMEs who embrace change. Perhaps, the real challenge lies in the capacity to rapidly introduce change in the organization. To do so, it is necessary for SMEs to increasingly share their experiences and learn from others. Through the adoption of open standards, we can create a level competitive field. That will free SMEs to leverage their competitive advantage of customer knowledge and proximity to provide services with greater customer value.