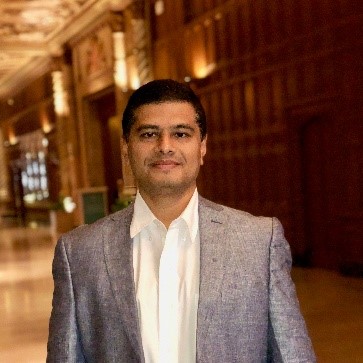 June 2020 - In this interview, Parthiv Parikh of SGS talks about the IoT market and SGS's involvement with oneM2M.
Q: Would you begin by introducing yourself and your professional interests?
PP: My name's Parthiv Parikh and I am the Global Business Development Manager for the wireless division of SGS. I live in sunny San Diego and manage technology and business development activities with a special focus on emerging technologies such as the Internet of Things (IoT) and vehicle-to-everything (V2X) communications. I have worked for SGS more than 15 years during which I have gained valuable insight interacting with various ecosystem stakeholders such as telecoms operators, test equipment and device vendors, solution providers and standards bodies. I represent SGS in several industry organizations including oneM2M, CTIA, the Global Certification Forum (GCF), Sigfox, OmniAir and 5GAA.
I have been involved in setting up certification programs in several organizations as well as the development of specifications.
Q: What is SGS and what are its main activities?
PP:  SGS is the world's leading inspection, verification, testing and certification company. We are recognized as the global benchmark for quality and integrity. Following its founding in 1878 as a grain inspection house, the company was registered in Geneva (Switzerland) as Société Générale de Surveillance in 1919. We now have more than 94,000 employees operating across a network of more than 2,600 offices and laboratories around the world. SGS's 2019 revenues exceeded CHF 6.6 billion.
We add more than just financial value to society. Through our integrated leadership approach, we strive to become an ever more sustainable company and to maximize the positive impact we can have. Our stakeholders - which includes employees and suppliers, investors, customers, governments and industries, and worldwide communities - are the ultimate beneficiaries of this effort.
Q: Why is SGS interested in the IoT market?
PP:  Over the last decade and a half, standalone devices are now being connected to communications networks. Home automation and industrial automation are on the rise. We come across connected sensors everywhere we look. The convenience of cheaply connecting these devices, the ability to control them from your fingertips, and the analytics they provide presents a very compelling case for the industry.
This convenience, however, brings in a slew of regulatory, safety, interoperability, and security issues. SGS, being the world leader in the TIC (testing, inspection, certification) segment, is naturally interested in being part of and driving this ecosystem to make sure that the products and solutions meet the compliance, safety, and security standards.
Specifically, on the IoT front, SGS has been one of the leading labs globally providing certification and testing for a variety of technologies such as cellular all the way from 2G to 5G as well as CAT M1, NB-IoT, Bluetooth, Wi-Fi, NFC, Thread, oneM2M, Sigfox amongst many others. 5G is expected to provide a boost to the already growing IoT market with more coverage, capacity, and throughput. Security is one other very important pillar in the IoT market and SGS was one of the founding members of the Charter of Trust at the 2018 Munich Security Conference driving security awareness for the entire supply chain.
Q: How is SGS involved with oneM2M?
PP:  SGS has been working with oneM2M for a few years, initially via the ETSI connection and recently as part of the GCF working group. With the myriad IoT technologies and specifications available, oneM2M promises to remove industry fragmentation by offering a connectivity or protocol agnostic service layer. For a complex smart city implementation, this provides a great advantage in connecting several industry verticals via a common service layer.
As a GCF Recognised Test Organisation (RTO), SGS is one of the two labs that currently provides conformance testing for the oneM2M certification program. We test according to oneM2M's TS-0018 specification. This defines the test suite structures and test purposes to evaluate conformity to the oneM2M specification for different components such as Application Entities (AEs) and Common Service Entities (CSEs). Here is a link to more information on the certification process: https://onem2m.globalcertificationforum.org/.
Vendors can contact us, and we can take them through the process. The conformance testing usually takes a few days barring any implementation issues and depending upon the maturity of the product. Upon successful completion vendors get a certification report with test results which can be submitted along with the oneM2M declaration to GCF under the compliance folder as part of evidence. At that point, GCF will review the application and list the device under oneM2M certification on their website.
Q: Why is certification so important?
PP: Certification ensures that a product meets or exceeds the set standards for the associated program. It reinforces trust and reliability. Industry associations have worked hard over the years to determine the applicable specification, minimum standards and interoperability guidelines, so when a product is launched in the industry, it benefits the entire ecosystem: end users, deployment agencies and device vendors. As a result:
- End users have trust in using the product.
- Device vendors have peace of mind that the product will work in the applied scenarios saving cost of returns, after sales support and brand reputation.
- Certification helps reduce the risk, control internal and external quality processes.
- Manufacturers and distributers gain access to certain markets and deployments where only certified devices are accepted, increasing their reach as well as sales volumes.
Q: What advice would you offer to vendors and users of IoT solutions?
PP: Always start early. Don't make certification an afterthought. Plan for it during the design phase. Set aside a budget for this activity. The choice of chipset/module/stack/components should be made with the consideration of not only the bill of materials (BOM) but also how they would help in receiving regulatory and other approvals easily without a lot of retesting. The last thing you want to do is get your device or solution ready and realize that it would need a redesign as it may not meet certain specification. This would end in delayed time to market and, in turn, negative financial results.