July 2019 - Eric Szymkowiak is the CEO of Pilot Things and has 15 years of experience in the telecommunications industry. Before developing Pilot Things, he co-founded a telecommunication consulting company. Eric also holds a master's degree in Computer Science from the University of Compiegne (France).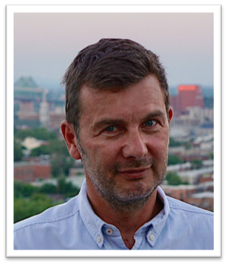 Q. Let us begin by talking about Pilot Things and the company's origins.
ES: About two years ago, there was a lot of activity relating to sensors and the Internet of Things (IoT). These topics came up in customer discussions about smart cities. The main question was how to connect and manage sensors that were being built using many different technologies. We saw an opportunity and that is how we came to launch Pilot Things.
Today, Pilot Things supports more than 200 sensors and its unique control centre helps major cities monitor their IoT sensors. As part of this, we have partnered with Kerlink - a leader in LoRa products - and Microsoft.
Q. Please tell us more about the Pilot Things business model.
ES: At the time of Pilot Things' founding, I was based in Toulouse in France and had forged a partnership with the Centre National de la Recherche Scientifique (CNRS) which is a part of France's national research agency. We looked at ways to connect sensors and collect data from a wide variety of sources. The oneM2M standard was the best solution, so we built Pilot Things around this.
Pilot Things is an automation platform for IoT available on Microsoft Azure or on premise. We partner with major System Integrators like SPIE ICS in France that resell our software. The pricing model depends on the number of sensors connected.
Q. You mentioned the importance of oneM2M. How are you making use of the standard and what value does it deliver to your business?
ES: oneM2M helps to solve the problem of collecting data from many different sensors. In a smart city, aggregating sensor data is a problem because there are many different types of sensors and many different suppliers. Integration is also a problem for System Integrators because they are forced to spend valuable time on one-off efforts. The oneM2M standard solves this problem by giving us a framework to connect sensors using cellular, LoRA, Wi-Fi and other connectivity technologies. For us, this means we can expand our operations for future growth.
Pilot Thing's software stack is three-fold. (1) We connect to a wide range of sensors using a proxy server or driver; (2) That transforms a radio protocol into an addressable IP resource; (3) Then, we can normalise the data. For example, we infer the fill status of a waste bin based on its dimensions. This is a representation of the physical asset, known as a digital twin (a common industry term). After normalising the data, we expose it for use in other applications via the oneM2M API and other protocols.
To summarise, we automate the IoT solution, starting with the sensors all the way to the applications.
Q. You have a growing presence in the smart cities sector. What problems are you hearing about from customers?
ES: In Europe, procurement rules require municipalities to launch a Request for Proposal (RFP) process for each project. The rules make it difficult to have a common procurement policy across projects. For example, a procurement for connected waste bins will be managed separately from a procurement for smart streetlights. This creates an integration problem for a city trying to link different applications and bring sensor data into a common, unified environment.
Manufacturers have a similar problem. Companies making waste bins will build sensors into their products. However, each new bin that a city buys represents a new data source that may not be easy to integrate with the existing bins that may come from another provider. These are the sorts of issues that are driving demand for a standardised smart city platform. These are also the problems that customers are experiencing around the globe.
Q. Tell us a bit more about your projects internationally and how they started.
ES: The city of Bordeaux was the first major project we won in France. The project covered approximately 500 sensors connected to more than 200 public lights, electric vehicle charging stations, refuse-sorting containers, waste bins and public buildings near Bordeaux's new outdoor stadium and arena, Matamut Atlantique. The pilot programme was recognized by Solutions Numeriques magazine and was awarded the Digital Transformation Trophy in March 2019.
Pilot Things now has customers in Canada, and we are currently exploring ways that we can expand our presence across other countries, including Japan and the United States. We have a lot of traction around the world, proving our strong product-market fit.
Q. In your two years with Pilot Things, what have you learnt about the IoT market and what advice would you give to adopters?
ES: The IoT revolution is just starting and viable solutions like Pilot Things' offering, are ready to go. My advice would be for new entrants to be sceptical of the PowerPoint decks out there.