TR-0039 Use Case
This section describes a use case which helps to understand the devices abstraction layer concept of oneM2M through the combined use of the SDT-based (Smart Device Template) Information Model specified in oneM2M TS-0023 and the Interworking Proxy Entity.
Abstraction description via the lightbulbs example
This guide is based on the following use case: an application on a Gateway, Cloud/Server, or Smartphone wants to monitor and control lightbulbs. Due to the abstraction layer provided by oneM2M, the monitoring and controlling processes can be performed independently from underlying connectivity technologies. This tutorial is based on the example of Philips Hue lightbulbs (these lightbulbs require dedicated bridge for connection with Gateway). Figure below presents the general architecture of the use case.
NOTE: The terms of use of Philips Hue API are available at https://developers.meethue.com/documentation/terms-use.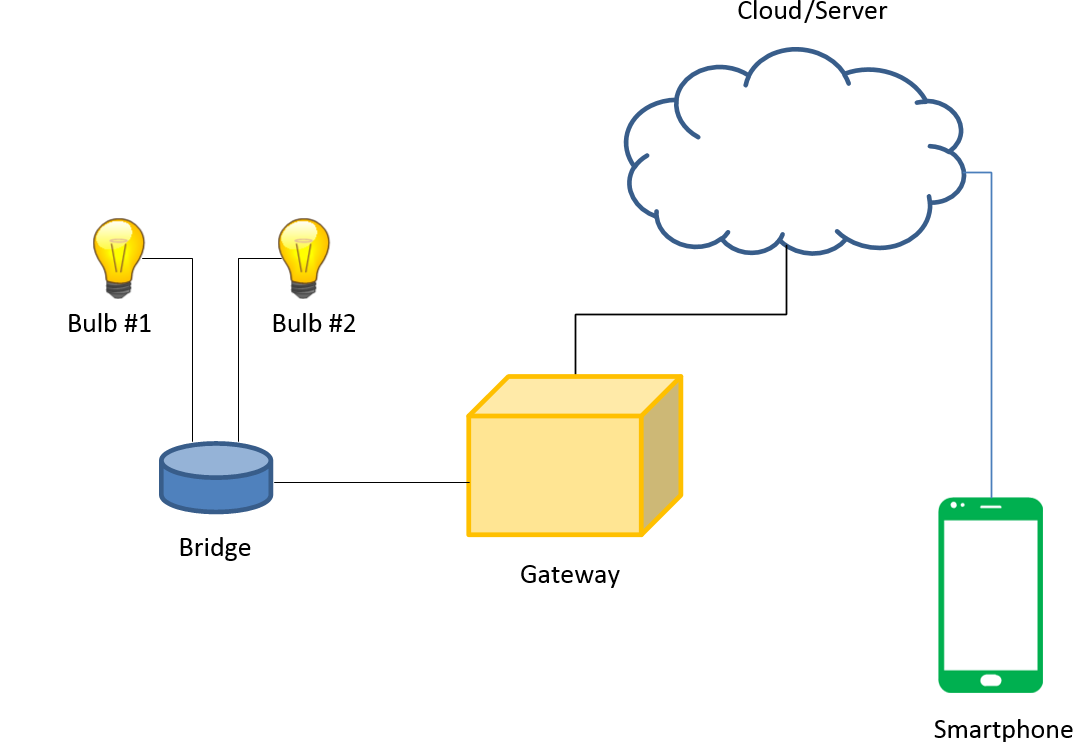 The main components are introduced as follows:
The lightbulbs are deployed in a home and are attached to a home gateway via Philips Hue Bridge.

The Gateway communicates with a Cloud/Server platform allowing the lightbulbs to be controlled remotely by the Smartphone.

The Cloud/Server platform and Gateway supports a set of services to enable the Smartphone to more easily control and monitor the lightbulbs in the home. Some examples of services include device abstraction layer, registration, discovery, data management, group management, subscription/notification, etc.

The Smartphone hosts an application used to remotely control and monitor the lightbulbs in the home and supports the following capabilities:

Discovery of the lightbulbs deployed in the home.

Sending commands to change light state i.e. switch on/off and change colour.

Receive state of a lightbulb.